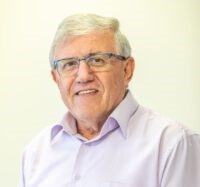 Vice President Michael Wainer holds a BA in Economics and an MBA, both from the Hebrew University of Jerusalem.
Mr. Wainer has a wealth of experience in finance and business development. He served as the CFO of the University between 2017-2021 and in this role, he managed the University's finance and budget, as well as logistics, procurement, insurance and payroll. Mr. Wainer led the successful establishment and implementation of the financial SAP modules at the University. He also represented the University at the Planning and Budgeting Committee (PBC) of the Council for Higher Education (CHE).
Previously, Mr. Wainer served as the CFO of the Haifa Port, the CFO of Soltam Systems Ltd., and CFO of RAFAEL Advanced Defense Systems Ltd. where he led the transformation of RAFAEL from a Ministry of Defense entity to a Governmental company.
Mr. Wainer serves as the Chairman of the Board of the University's School of Tourism and a Director at the Carmel Ltd- University of Haifa Economic Corporation Board.