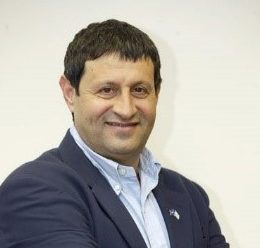 VP for Internationalization and Sustainability
Baruch Marzan serves asVice President for Internationalization and Sustainability since October, 2021. He is responsible for formulating and implementing the University of Haifa's global strategy for the International School, incorporating sustainable goals into the academic programs at the School based on the United Nations SDG Index, and directing the University's Sustainability Council.
Baruch has twenty years of managerial experience in the areas of budgets and finance, human resources, and general administration, and has a deep familiarity with the University's academic and administrative systems.
He has held key positions at the University, including Academic Secretary (2000-2004), Manager of the Research Authority, Head of the Immigrant Absorption Program, and Administrative Manager of the External Studies-Continuous Education Unit. He was Chairman of the Forum of Managers of Research Authorities in Israel. He also served as a member of the University's Board of Governors, Executive Committee, Senate, the University Administration and additional subcommittees at the University.
In 2003, Baruch was awarded the President's Prize for Outstanding Manager, for his special contribution to the management of academic resources at the University.
Baruch holds a BA in Economics and Statistics, and an MA in Applied Organizational Sociology from the University of Haifa.