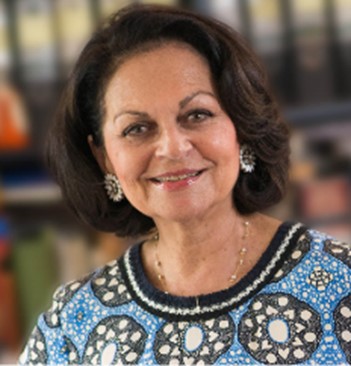 Chairwoman, German Friends of the University of Haifa

Dr. h.c. Sonja Lahnstein-Kandel is a respected promoter of civic rights, tolerance and understanding in Germany, in German-Israeli relations, and a friend of Israel, who devotes considerable effort toward promoting coexistence between Jews and Arabs. She has been a significant supporter and partner of the University of Haifa for more than 20 years. Sonja, who was born into a Jewish family in Zagreb, Yugoslavia, immigrated to Germany as an adolescent in the 1960s.
She studied economics and at the age of 24 embarked upon an international career at the International Monetary Fund and the World Bank. She then continued her professional career in a number of senior positions, including the Regional Manager of the German Development Corporation; the Director of the Draeger Foundation for international economic and development policy; and pro bono Commissioner for Tolerance for the Bertelsmann Corporation.
In recognition of her work, in 2001 Sonja received the Order of Merit of the Federal Republic of Germany from the Federal President. Her commitment to coexistence and understanding is also the driving force behind her involvement with Jewish issues and Israel. She served on the Board of Trustees of the Berlin Foundation Memorial to the Murdered Jews of Europe, for many years and is in the Steering Committee of the Supervisory Board of the Israelite Hospital in Hamburg. She also serves as Chairwoman of the German Friends of the Israel Museum and of the University of Haifa where, until June 2017, she served as Vice-Chair of its Board of Governors and continues as the member of the Steering Committee of the Board.
In 2017, she received an Honorary Doctorate, the University's highest accolade. She has been instrumental as a partner with academia and students to help launch meaningful and sustainable coexistence programs for young Jews and Arabs in Israel. She runs a consulting company with her husband, the former Chairman of the University of Haifa, Prof. Dres. h.c. Manfred Lahnstein.